Pressemitteilung
KBC zählt erneut zu "Bayerns Beste Arbeitgeber 2023"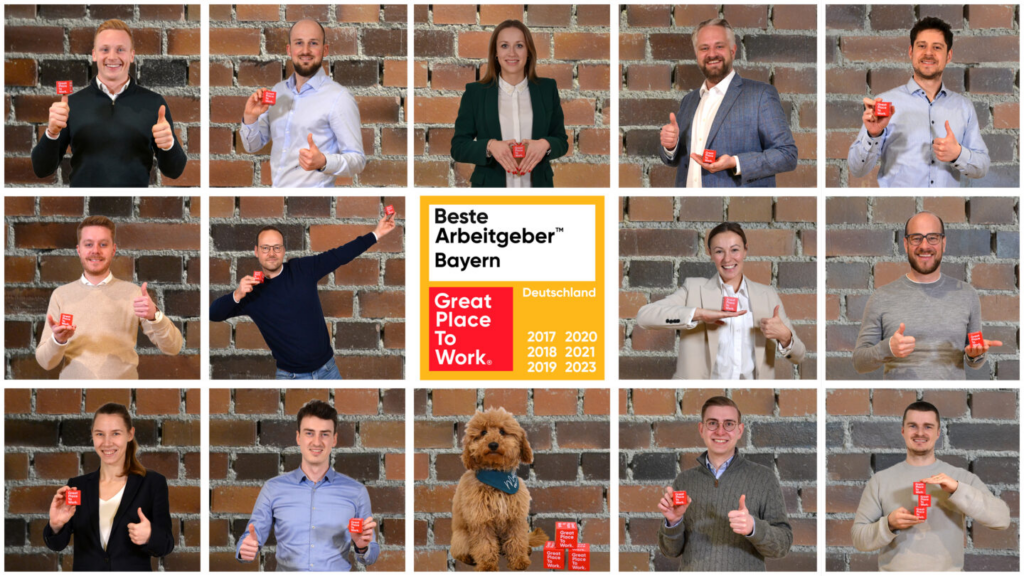 München, 26. April 2023. Beim Landeswettbewerb "Bayerns Beste Arbeitgeber 2023" wurden wir von Great Place to Work® erneut als einer der besten ausgezeichnet. Patricia Morgenstern, Marketing & Employer Branding Manager bei KBC, nahm den Award heute im Rahmen der feierlichen Verleihung in München entgegen.
Great Place to Work® Geschäftsführer Andreas Schubert betonte, dass die Auszeichnung für eine Arbeitsplatzkultur steht, die in hohem Maße von Vertrauen, Stolz und Teamgeist geprägt ist. Eine attraktive, Engagement fördernde Unternehmenskultur sei u.a. ein zentraler Schlüssel für die Bewältigung wichtiger Zukunftsaufgaben. Besondere Erwähnung fand durch die Great Place to Work®-Jury, dass großer Wert auf eine faire Bezahlung gelegt und Rücksicht auf individuelle Bedürfnisse genommen wird, z.B. im Hinblick auf Religion, Ernährungsweise oder körperliche Beeinträchtigungen.
"Wir freuen uns sehr, dass unsere Mitarbeitenden uns einmal mehr so gut bewertet haben", sagt Constanze Schöffmann, Director Human Resources bei KBC. "Zudem liefert uns die Zertifizierung wertvolle Impulse, um uns als Arbeitgeber stetig weiterzuentwickeln. Das aufrichtige Interesse an jeder einzelnen Person statt an ihrer Arbeitskraft und die Anerkennung, für gute Arbeit und besonderen Einsatz bietet die Basis für eine stetige persönliche sowie fachliche Weiterentwicklung. Die Weitergabe von Wissen ist für uns nicht nur selbstverständlich, sondern fester Bestandteil der Unternehmenskultur.", so Schöffmann weiter.
Wir wurden ebenfalls für die Wettbewerbe "Beste Arbeitgeber im Consulting 2023" und "Beste Arbeitgeber im kleinen Mittelstand 2023" ausgezeichnet.
Informationen zum Wettbewerb
Am aktuellen Landeswettbewerb "Bayerns Beste Arbeitgeber" nahmen bayerische Unternehmen aller Branchen und Größen teil. Partner des 2014 ins Leben gerufenen bayerischen Landesinitiative und des Wettbewerbs sind der bayme vbm – Die bayerischen Metall- und Elektro-Arbeitgeber e.V. und Das Demografische Netzwerk e.V. (ddn). Dach ist der bundesweite Wettbewerb "Deutschlands Beste Arbeitgeber" der bereits seit 2002 jährlich durchgeführt wird.
Über die Auszeichnung
Ausgezeichnet wurden Unternehmen, die ihren Mitarbeitenden eine besonders gute sowie attraktive Unternehmenskultur und motivierende Rahmenbedingungen bieten. Die Auszeichnung steht zudem für besonderes Engagement bei der Gestaltung einer vertrauensvollen und förderlichen Kultur der Zusammenarbeit im Unternehmen.
Sie basiert auf einer anonymen und repräsentativen Befragung der Mitarbeitenden. Themen dabei sind unter anderem Vertrauen in Führungskräfte, Teamgeist, Fairness, Wertschätzung, Respekt sowie Identifikation mit dem Unternehmen. Darüber hinaus wird das Management
im Rahmen eines Kultur Audits befragt, welche Maßnahmen und Programme zur Gestaltung einer attraktiven Arbeitsplatzkultur aufgelegt wurden. Die Bewertung durch die Mitarbeitenden steht mit einer Gewichtung von 3:1 jedoch im Vordergrund.
Über Great Place to Work®
Great Place to Work® ist ein international tätiges Forschungs- und Beratungsnetzwerk. In über 100 Ländern weltweit unterstützt es bei der Gestaltung einer attraktiven und zukunftsorientierten Arbeitsplatzkultur. Im Mittelpunkt steht dabei der Aufbau von Vertrauen, Begeisterung und Teamgeist. Neben unternehmensspezifischen Analyse- und Beratungsangeboten zur Weiterentwicklung der Arbeitsplatzqualität und Arbeitgeberattraktivität, ermittelt Great Place to Work® im Rahmen überregionaler, regionaler und branchenspezifischer Arbeitgeberwettbewerbe und in Zusammenarbeit mit namhaften Partnern regelmäßig sehr gute Arbeitgeber und stellt diese der Öffentlichkeit vor. Das deutsche Great Place to Work® Institut wurde 2002 gegründet und beschäftigt am Standort Köln rund 90 Mitarbeitende. Weitere Informationen: www.greatplacetowork.de.