Pressrelease
KBC belongs to the league of best employers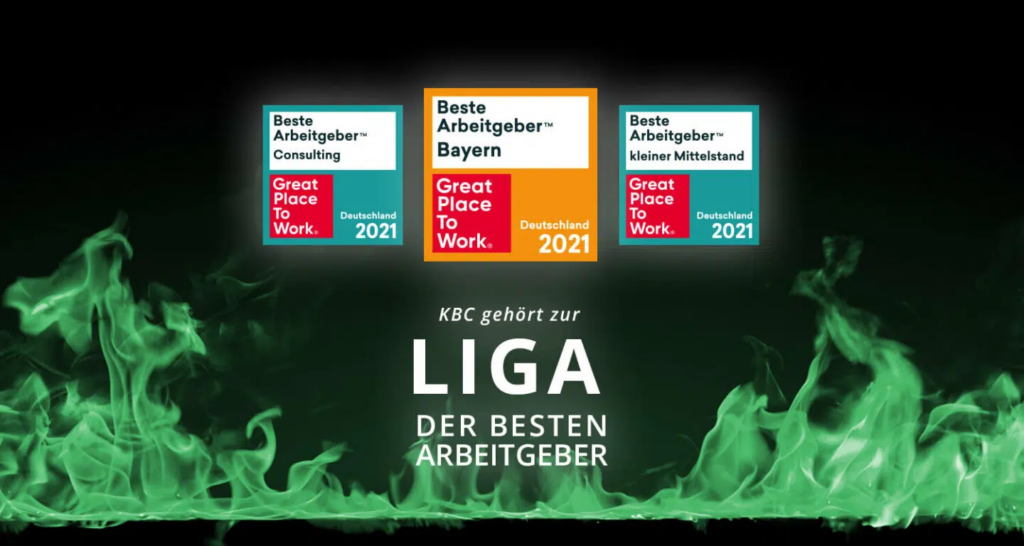 KBC has already been playing in the major league of Germany's best employers for years. We regularly receive the GPTW awards "Best Employer Consulting" and "Bavaria's Best Employer".
A special year with special challenges
2020 was an exceptional year as the pandemic presented us with challenges that never existed before – lockdown, no contact, no personal exchanges, no joint activities. Close team collaboration is an important component of our KBC culture and therefore it was, and still is today, an especially challenging time. Virtual coffees and get-togethers could only partially compensate. At the same time, last year we moved into our new offices in eastern Munich's newly created Art Quarter and we at least had the opportunity – obviously adhering to the appropriate hygiene regulations – to see one another and speak in person there. We have served our customers and projects with the exact same level of professionalism as before and to do so we have used the full spectrum of online tools and technologies, up to and including Remote Collaboration.
KBC awarded by GPTW for the second time
We were therefore all the more delighted that our TEAM gave us top marks yet again, and we were even rewarded, for the third time, with the award for "Best Employer Small and Medium-sized Enterprises".
The GPTW awards ceremony will take place in May and we are very excited to find out exactly what places we have achieved in the individual categories.
Basic information regarding the competition:
Best Employer Consulting, Bavaria's Best Employer and Best Employer Small and Medium-sized Enterprises
The award was preceded by a detailed representative and anonymous survey of KBC employees. Topics of the survey include trust in management, quality of cooperation, appreciation, identification with the company, career development opportunities, remuneration, team spirit, fairness and respect. In addition, the management was questioned about beneficial measures and offers for personnel work in the company.. The results of the two internationally proven research instruments (the Great Place to Work® Employee Survey + Culture Audit) were weighted in a ratio of 3:1. The direct evaluation of the employees is therefore in the foreground.
Consulting companies of all sizes and industry segments took part in the current «Best Employer Consulting 2021». Bavarian companies of all sectors and sizes took part at the current «Bavaria´s Best Employer 2021». Companies from all industries with 20-49 employees participated throughout Germany «Best Employer Small and Medium-sized Enterprises 2021».