Publication
Introduction to (quality) management systems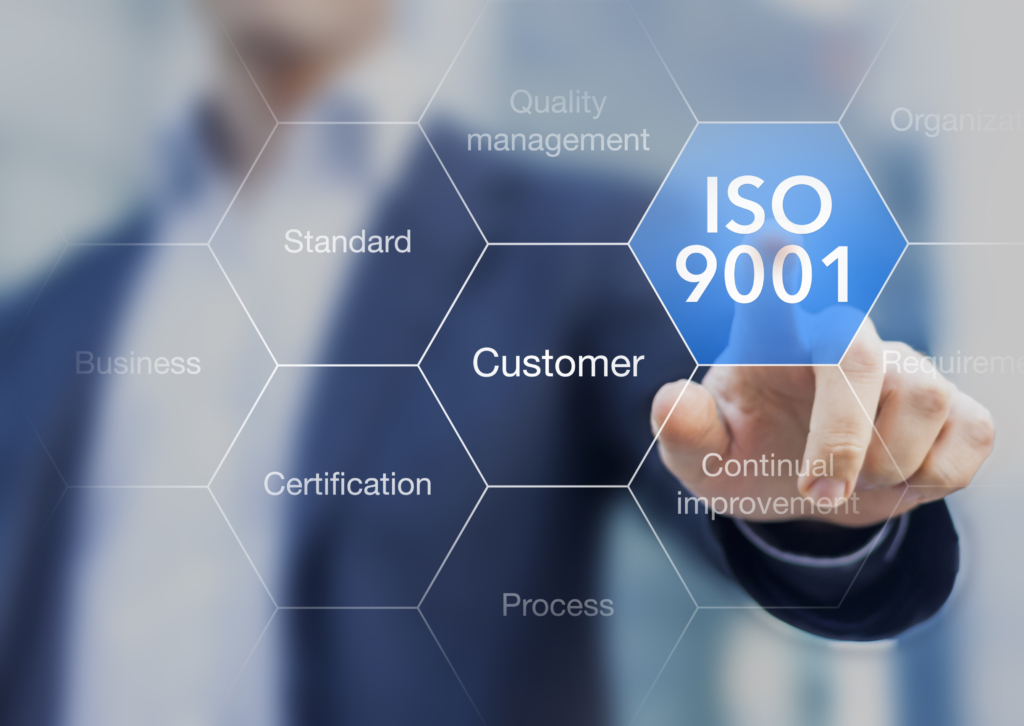 Companies must have a standardised and effective quality management system, e.g. in line with DIN EN ISO 9001, in place in order to be able to hold their own in international competition. In the course of certification they receive – from an independent certification company – an evaluation of processes, structures, resources and risks, and documentation of instructions for processes and procedures. This means that continuous improvement is possible.
Preparation for DIN EN ISO 9001 certification
The quality management norm, DIN EN ISO 9001, encompasses requirements for companies taking the entire value added chain, including development, into account. Certification serves as proof of the quality and efficiency of a company vis-à-vis customers and other stakeholders outside the company.
Companies that introduce a quality management system based on DIN EN ISO 9001 usually encounter different challenges. In our experience, the development and consistent execution of a project plan as part of certification is an important factor for success. We will support you in implementing milestones, identifying those responsible, introducing actions, and consulting with the relevant stakeholders. We take an active role driving the implementation by continuously monitoring the timetable and tracking actions.
Following a successful preparation phase, you can get an independent certifier to carry out an audit to receive certification in line with DIN EN ISO 9001.
Post-certification
However, the certification on its own is not enough. Only a consistent implementation of the individual elements makes it possible to utilise the efficiencies of the quality management system and thus achieve real added value for your organisation. In order to anchor the quality goals sustainably in the company we first recommend creating a company-specific quality guide. Expertise in quality and in-depth experience in change management allow us to enshrine a quality orientation, quality structures, resources and responsibilities, as well as the associated processes and methods, in your company. We not only support you in introducing a Quality Officer, but will also work with you to create a responsibilities matrix. All roles, responsibilities and interfaces are thus communicated and agreed transparently. In addition, we will support you in defining and introducing the relevant procedure and work instructions.
Benefits of a quality management system
By standardising processes, clear goals, and an unambiguous definition of tasks and competencies, inefficiencies in workflows can be eliminated and productivity increased. Staff can concentrate on their actual core tasks, which are clearly defined by the QMS. By optimising processes and increasing transparency, product quality can also be improved in the long term, and error costs and rates of complaints reduced.
KBC's solid and extensive expertise in quality:
We reliably identify the actions needed on the basis of the quality requirements in line with DIN EN ISO 9001 certification and derive effective measures and implementation plans.
We possess in-depth expertise on the entire value-added chain as well as comprehensive industry-specific know-how – this means that we ensure the correct interpretation and implementation of all the DIN EN ISO 9001 requirements.
We roll our sleeves up and get to work to ensure the consistent execution of the actions defined and the reliable implementation of the required quality standards.
We make sure that the changes in the customer organisation are sustainably anchored and thus successful in the long term.
Our effective and efficient implementation of project management tasks guarantees relief – you can devote yourself to your core tasks.
Through our many years of experience as an external auditor for manufacturers we know the pitfalls of auditing and how to preventatively avoid them.