Pressrelease
Munich-based management consultancy KBC third place "Best Employers in Consulting 2021"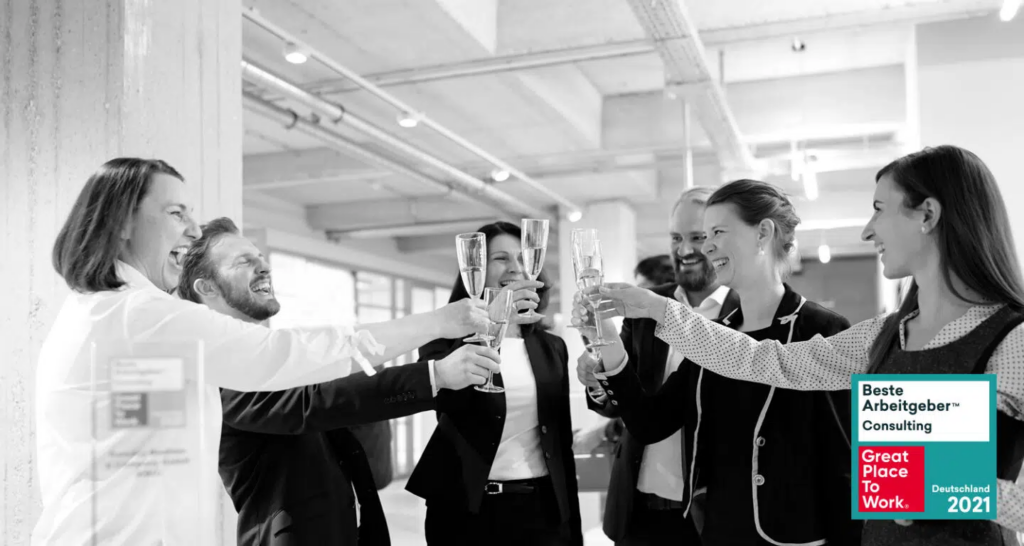 At the beginning of May, GPTW selected the best employers in Germany 2021 in various categories. Third place in the category "Best Employer in Consulting" went to the Munich-based management consultancy Kemény Boehme & Company GmbH – KBC.
"The excellent ratings of our employees prove that our KBC spirit – characterised by trust, appreciation and a family-like approach to each other – is stronger than any crisis. A team like ours grows through challenges and does excellent work even when conditions actually make it impossible," says Felix Feuerbach, co-founder and senior partner at KBC on the GPTW award in the Corona crisis year.
"We will seize the next possible opportunity and duly make up for the celebration of the award".
Framework information on the competition:
The award is based on an anonymous and representative survey of KBC employees. Topics of the survey include trust in managers, quality of cooperation, appreciation, identification with the company, professional development opportunities, remuneration, team spirit, fairness, appreciation, respect and identification with the company. In addition, the management is asked within the scope of a culture audit which measures and programmes have been set up to create an attractive workplace culture. The results of the two surveys (Great Place to Work® employee survey + culture audit) are weighted at a ratio of 3:1). The evaluation of the employees is therefore in the foreground.
Consulting companies of all sizes and industry segments took part in the current Great Place to Work® industry competition "Best Employers in Consulting 2021".
They voluntarily submitted to an independent assessment of their workplace culture by the Great Place to Work® Institute and the judgement of their own employees. The list of the best employers was determined from the total field of participants (benchmarking differentiated by company size). The companies use the differentiated survey results and employee impulses both for the further development of their corporate culture and for effective and credible employer branding.
Partners of the Great Place to Work® industry initiative launched in 2016 and the "Best Employers in Consulting" competition are the Bundesverband Deutscher Unternehmensberater e.V. (BDU) and the industry platform Consulting.de. The umbrella is the cross-sector competition "Germany's Best Employers", which has been held annually since 2002.