Pressemitteilung
KBC erneut unter den "Besten Arbeitgebern Bayerns"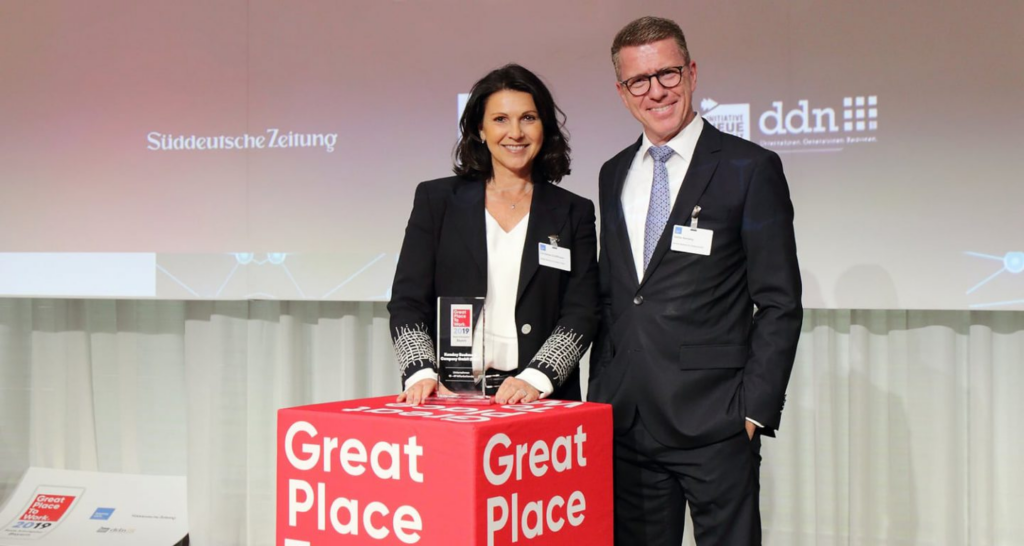 München – KBC ist beim Landeswettbewerb «Bayerns Beste Arbeitgeber 2019» von Great Place to Work® als einer der besten Arbeitgeber ausgezeichnet worden.
Geschäftsführer Stefan Kemény und Human Resources Managerin Constanze Schöffmann nahmen am 03 April im Haus der bayrischen Wirtschaft stellvertretend für die "KBC-Familie" die Auszeichnung entgegen. 100 Prozent der Befragten stimmten der Aussage zu: "Wir fühlen uns hier wie eine "Familie" – Wir haben einen guten Teamgeist".
Weitere Informationen zu KBC sowie Stimmen aus dem Team finden Sie hier.
Rahmeninformationen zum Wettbewerb:
Vorausgegangen war der Auszeichnung eine ausführliche anonyme Befragung der Mitarbeitenden von KBC zu zentralen Arbeitsplatzthemen wie Vertrauen in die Führungskräfte, Qualität der Zusammenarbeit, Wertschätzung, Identifikation mit dem Unternehmen, berufliche Entwicklungs-möglichkeiten, Vergütung, Gesundheitsförderung und Work-Life-Balance. Darüber hinaus wurde das Management zu förderlichen Maßnahmen und Angeboten der Personalarbeit im Unternehmen befragt. Die Ergebnisse der beiden international bewährten Untersuchungsinstrumente (Great Place to Work® Mitarbeiterbefragung + Kultur Audit) wurden im Verhältnis von 2:1 gewichtet; die unmittelbare Bewertung der Mitarbeitenden steht also im Vordergrund.
Am aktuellen Great Place to Work® Landeswettbewerb «Bayerns Beste Arbeitgeber 2019» nahmen bayrische Unternehmen aller Branchen und Größen teil. Sie stellten sich einer freiwilligen Prüfung der Qualität und Attraktivität ihrer Arbeitsplatzkultur durch das unabhängige Great Place to Work® Institut und dem Urteil der eigenen Mitarbeitenden. Aus dem Gesamtteilnehmerfeld wurde die Liste der besten Arbeitgeber ermittelt (Benchmarking differenziert nach Unternehmensgrößen). Alle Teilnehmer profitierten unabhängig von einer Platzierung auf der Besten-Liste von der differenzierten Standortbestimmung und den Impulsen für ihre Weiterentwicklung als gute und attraktive Arbeitgeber.
Partner der 2014 ins Leben gerufenen bayrischen Great Place to Work® Landesinitiative und des Wettbewerbs «Bayerns Beste Arbeitgeber» sind der bayme vbm – Die bayrischen Metall- und Elektro-Arbeitgeber e.V., Das Demographie Netzwerk e.V. (ddn) und die Süddeutsche Zeitung. Dach ist der bundesweite Wettbewerb «Deutschlands Beste Arbeitgeber», der bereits seit 2002 jährlich durchgeführt wird.