Pressrelease
KBC again receives Great Place to Work® award "Best Employers in Consulting 2023"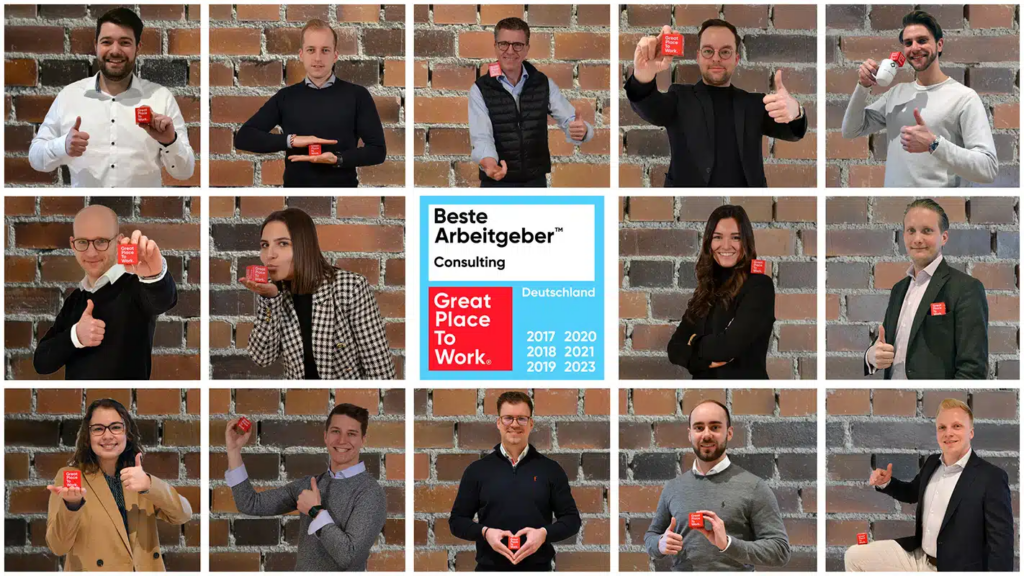 With fifth place, we are once again among the best in this year's Great Place to Work® competition "Best Employers in Consulting 2023". According to Great Place to Work®, good employers have one thing in common: they are committed to credible, fair leadership and the active promotion of employees. Respect, trust and team spirit are part of the corporate culture to a large extent.
In this year's survey, the Great Place to Work® jury particularly emphasised the regular mentoring talks and the team rounds that take place every fortnight and thus promote a regular exchange within the team.
"Our special corporate culture thrives on trust and appreciation. We attach particular importance to working together as a team and dealing with each other in a friendly manner. As managers, we set a good example here. Our team spirit is characterised by helpfulness and cohesion," summarises Stefan Kemény, Managing Director and Senior Partner of KBC. This was confirmed by the recent survey among the employees in the context of the team workshop on the "Continuous Improvement Process" (CIP), which takes place twice a year.
We were also awarded ninth place for the "Best Employer in Small Medium-Sized Businesses 2023" competition. The placement for the "Bavaria's Best Employers 2023" award will be announced at the awards ceremony on 26 April.
Information on the competition
Consulting companies of all sizes and industry segments took part in the current Great Place to Work ® industry competition "Best Employers in Consulting". Partners of the industry initiative and the competition, which was launched in 2016, are the Bundesverband Deutscher Unternehmensberater e.V. (BDU) and the industry platform Consulting.de. The umbrella competition is "Germany's Best Employers", which has been held annually since 2002.
About the award
The award was given to companies that offer their employees a particularly good and attractive corporate culture and motivating framework conditions. The award also stands for special commitment to creating a trusting and supportive culture of cooperation within the company.
It is based on an anonymous and representative survey of employees. Topics include trust in managers, team spirit, fairness, appreciation, respect and identification with the company. In addition, the management is
In addition, management is asked in a culture audit which measures and programmes have been implemented to create an attractive workplace culture. However, the evaluation by the employees is in the foreground with a weighting of 3:1.
About Great Place to Work®
Great Place to Work® is an international research and consulting network. In more than 100 countries worldwide, it supports the creation of an attractive and future-oriented workplace culture. The focus is on building trust, enthusiasm and team spirit. In addition to company-specific analysis and consulting services for the further development of workplace quality and employer attractiveness, Great Place to Work® regularly identifies very good employers within the framework of national, regional and industry-specific employer competitions and in cooperation with renowned partners and presents them to the public. The German Great Place to Work® Institute was founded in 2002 and employs around 90 people at its Cologne location. Further information: www.greatplacetowork.de.