Pressrelease
KBC again honoured with the consultant award!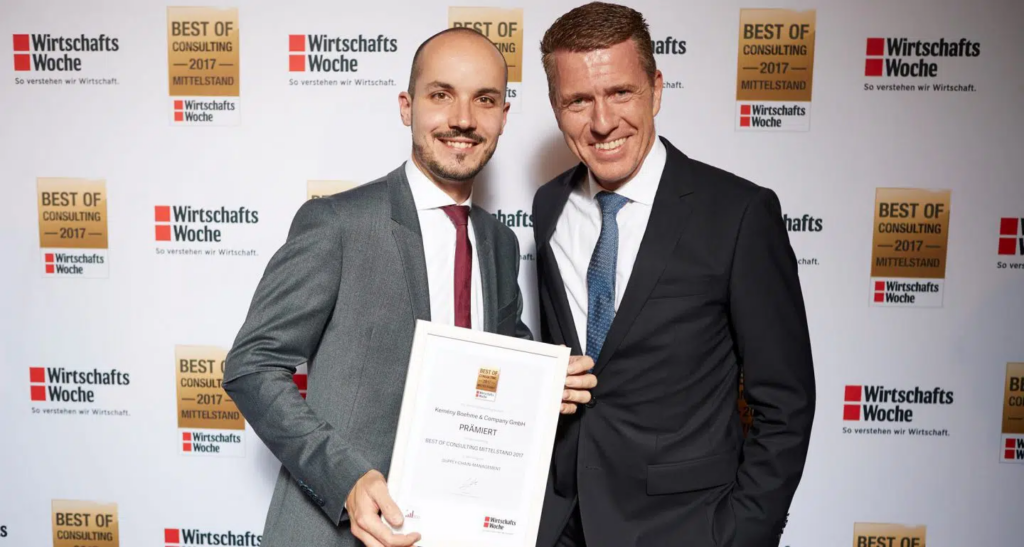 KBC is one of the three best consulting firms in the "Supply Chain Management" category and was honoured by WirtschaftsWoche with the "Best of Consulting 2017 – Mittelstand [Mid-sized Sector]" award.
Munich – After winning the "Top Consultant" award again this summer, KBC has now also won the "Best of Consulting- Mittelstand" award again.
This is already the 8th time that "Best of Consulting – Mittelstand" honours Germany's best management consultants. For this purpose, WirtschaftsWoche calls on all consultancies in Germany to have a client project evaluated by a scientific advisory board and a jury. Up to three projects can be submitted in a total of 7 different categories. KBC submitted the project "Supplier Competence Network at an Automotive OEM" and was awarded third place for this project.
In this project, KBC supports its client within the framework of supply security. In the event of supply shortfall caused by a supplier, the consultants act as crisis managers to prevent/reduce the damage resulting from this shortfall. Within a very short period of time, they are able to deal with topics such as production optimization, manufacturing process know-how, lean management, plant know-how, automation, supply chain management, inbound/outbound logistics, container management and interim management or restructuring mandates.
The topicality of the project is not only due to the numerous recall actions, especially in the automotive sector in recent months, but also underlines KBC's competence in supply chain management.
KBC Managing Director Stefan Kemény and KBC Manager Maximilian Leicht gratefully accepted the award in Düsseldorf on behalf of all project members.