Pressrelease
For the fith time in a row, KBC is a "Great place to work"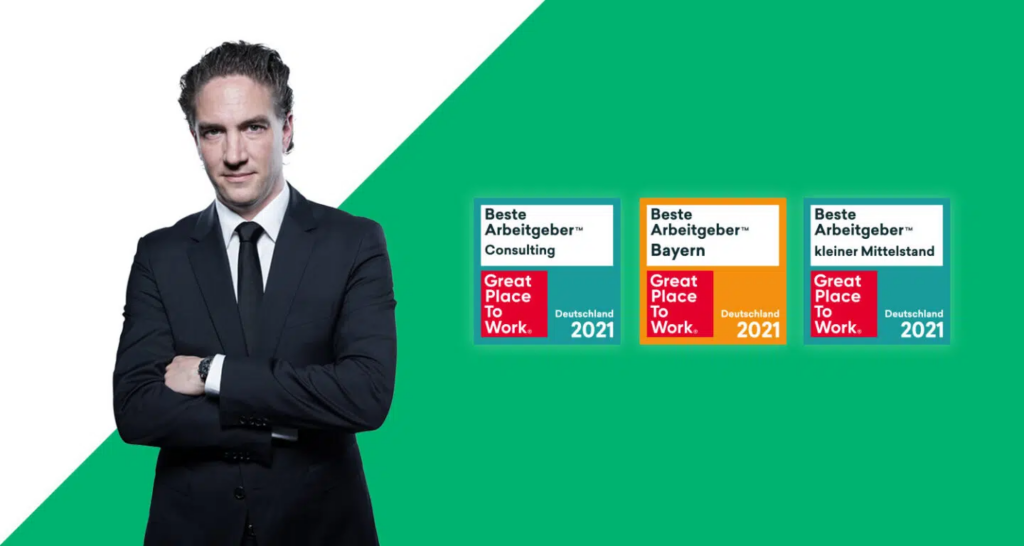 A statement from Felix Feuerbach Senior Partner & Head of Human Resources
KBC wins the awards "Best Employer in Consulting" & "Bavaria's Best Employer" for the fifth time and, for the first time, the award "Best Employer Small and Medium-sized Enterprises" – thank you to the best team for once more giving us a superb evaluation!
As management consultants we are used to working in teams, always in close collaboration with our colleagues and close to our customers. Together, we find individual solutions for individual challenges. We are a perfectly functioning team – that is what sets us apart.
To a large extent, 2020, due to the pandemic, made this "team work" impossible. Personal exchanges, the important "small communications" that happen in passing, daily interactions, fostering our special corporate culture, all of that was suddenly impossible.
That we were nevertheless able to post such a successful financial year, and now to be honoured as a Great Place to Work makes me infinitely proud. The excellent evaluations from our staff demonstrate that our KBC spirit – characterised by trust, appreciation, and the close way we interact – is stronger than any crisis. A team like ours flourishes in the face of challenges and does an excellent job even if the circumstances technically make it impossible.
I am looking forward to being able to work together as the full KBC team in our new premises soon, but also to being able to celebrate and spend time together there. I am proud to be part of this company and would like to thank all of our staff for their commitment and their high regard for our KBC family. You are the best!